With this digitally transorm business project, Duy Minh Garment Joint Stock Company hopes to be able to synchronously upgrade the information technology infrastructure system, move towards centralized management of all resources and eliminate manual administrative tasks. From there, achieve the goal of increasing production productivity through Vietsoft's integrated, specialized and flexible ERP & Andon system.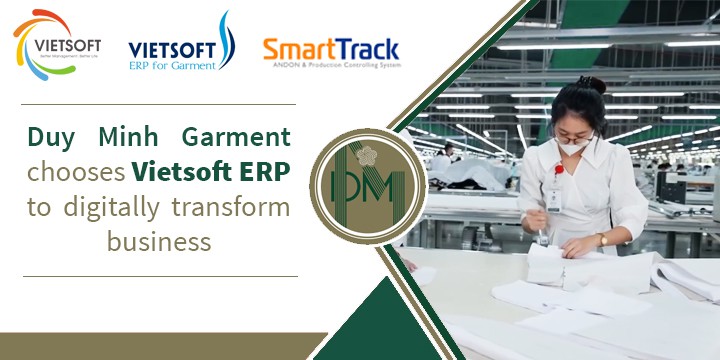 Duy Minh Garment JSC is a member of Thien Nam Thinh Vuong Textile Group. The Group owns a closed textile ecosystem including: 4 Thien Nam Spinning factories, Bao Minh Textile Company and Duy Minh Garment Company.
Currently, the company has a scale of 3500 employees, specializing in Outsourcing Garment and Garment Exporting fashion items, especially woven shirts and high-quality casual pants exported to the US, Europe, and Japan markets. Duy Minh JSC has achieved WRAP standard, BSCI certificate on production complying with global responsibility and social responsibility in business.
Duy Minh Garment JSC has chosen Vietsoft Erp for Garment and ANDON Smart Track to digitally transform its  entire production and business process, standardizing the management process to meet the increasing demands of domestic and foreign customers. The application of Vietsoft ERP for Garment will also allow Duy Minh Garment JSC to build a competitive advantage and move towards its sustainable development goals.
Vietsoft Co.,ltd has been a leading enterprise software provider for the textiles & garment industry in Vietnam for over 20 years. We has a lot of experience providing comprehensive, easy-to-use and modern solutions for the entire textiles & garment  industry, from manufacturing to distribution and sales. The company offers a complete set of solutions for the textile industry including:
Resource management software VIETSOFT ERP FOR GARMENT
Textiles & Garment Supply Chain Management System VIETSOFT SCM FOR GAMENT (Can integrate with SAP ERP system)
Human Resource and Payroll Management System VIETSOFT HRMS FOR GARMENT (according to the characteristics of Vietnam Textiles & Garment industry)
Textiles & Garment Production Management System ANDON SMARTTRACK
Asset management and maintenance system for the garment industry CMMS ECOMAINT
All of our solution can be tailored to fit every company's individual needs. Vietsoft has worked with over 250 leading textiles & garment businesses in Vietnam to help businesses reach their goals and maximise profits.
The implementation of Vietsoft ERP for Garment will be a significant improvement for Duy Minh JSC. It will help the company reduce costs and increase efficiency by controlling inventory, improving capacity and efficiency, reducing order production time, standardising designs and improving product quality.
The company-wide digitisation project includes all operations from production to supply chain, order management and vertically integrated sales. ERP implementation at Duy Minh JSC officially starts from April 2022 and will go-live in December 2022.
Some key benefits that Thanh Cong will be able to enjoy with Vietsoft ERP for Garment:
Strictly manage all enterprise resources
Improve management visibility & decision-making ability
Collect & manage all operational data in real time
Cut production waste, inventory costs
Increase productivity, sustainable profit
Reduce wasted time for administrative work
If you want to learn more about Vietsoft solutions to digitally transform your business, sign up for a free consultation here and our team will be in touch!